Valdovinos, J. (2021). Transnational Corporations in Urban Water Governance: Public-Private Partnerships in Mexico and the U.S. Routledge, Taylor & Francis, 260 pp.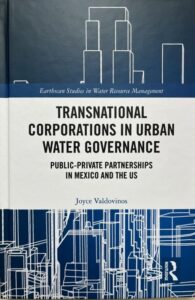 Resumen
This book examines the role played by business in urban water governance by analyzing the evolution of the global private water sector along with four public-private partnerships in Mexico and the U.S.
The local nature of water services often hides the global developments behind the rise of transnational water corporations, which have gone from being local operators to becoming dynamic and powerful actors within an interconnected transnational space for water. This book focuses on the French groups Veolia and Suez, two of the most prominent private actors in global water governance, and the development and adaptation strategies of both companies in the cities of Aguascalientes, Mexico City, Atlanta, and Milwaukee over the past 30 years. Drawing on over 100 interviews conducted with corporate executives, public authorities, and local users of water services, this book moves beyond the simplistic dichotomy of the public-private debate and develops a theoretical framework that analyzes the economic and political power wielded by transnational business actors in global water governance. Not only does the book explain how Veolia and Suez strategically mobilize resources at difference scales in order to expand their global operations, but it also provides a nuanced picture of how state regulation remains of central importance to understanding the dynamics and evolution of the global water sector.
Students and scholars interested in business and the environment, including public-private partnerships, business management and transnational corporations, and water governance, will find this book of great interest as will professionals and policymakers working in these fields.
Contenido
Introduction
1. The Transnational Space for Water
2. Unravelling the Global Private Water Sector
3. From Local Water Companies to Transnational Corporations: Veolia and Suez
4. Transnational Water Corporations in Aguascalientes and Mexico City: The Limits of Adaptation Strategies in a Highly Politicized and Centralized Water Sector
5. Learning from the Past and Adapting to the Future in a Competitive U.S. Water Sector: Public-Private Partnerships in Atlanta and Milwaukee
Conclusion
Reseñas
"While water and cities have figured centrally in discussions on globalization, urban water governance has been usually overlooked. This book fills that void and explores, with a multi-level approach, the role of water business as urban stakeholders. Combining insights from geography, international affairs, political science, and field research in the United States and Mexico, the author illuminates the role of the most powerful transnational companies through a comparative perspective. This book is a valuable and welcome theoretical contribution to the discussions on sustainability."

Graciela Schneier-Madanes, CNRS Senior Researcher Emeritus and Paris Water Observatory President
"Transnational corporations are far more important in water supply and sewerage than is commonly understood – at times fair-market service providers, at others furtive profit-seekers facing calls for universal access to water. This volume by a rising analyst with the sharpest of insights is a must-read for academics, students and practitioners."

Christopher A. Scott, Director of the Udall Center for Studies in Public Policy and Professor of Water Resources Geography, University of Arizona
"Private sector participation in water and sanitation in Latin America and the Caribbean has proven to be effective in different contexts and circumstances. Throughout our region's cities, the private sector has successfully provided sustainable services for over 50 years. Yet, in some cases, it has not flourished and even failed. This book provides a relevant in-depth analysis of the role of the private sector, focusing on transnational corporations, and its impact on global and local water governance."

Sergio Campos, Chief of the Water and Sanitation Division, Inter-American Development Bank
Disponible aquí: https://www.routledge.com/Transnational-Corporations-in-Urban-Water-Governance-Public-Private-Partnerships/Valdovinos/p/book/9780367440596